Get Started
Improving your health & wellness with doTERRA essential oils is as easy as choosing your first kit.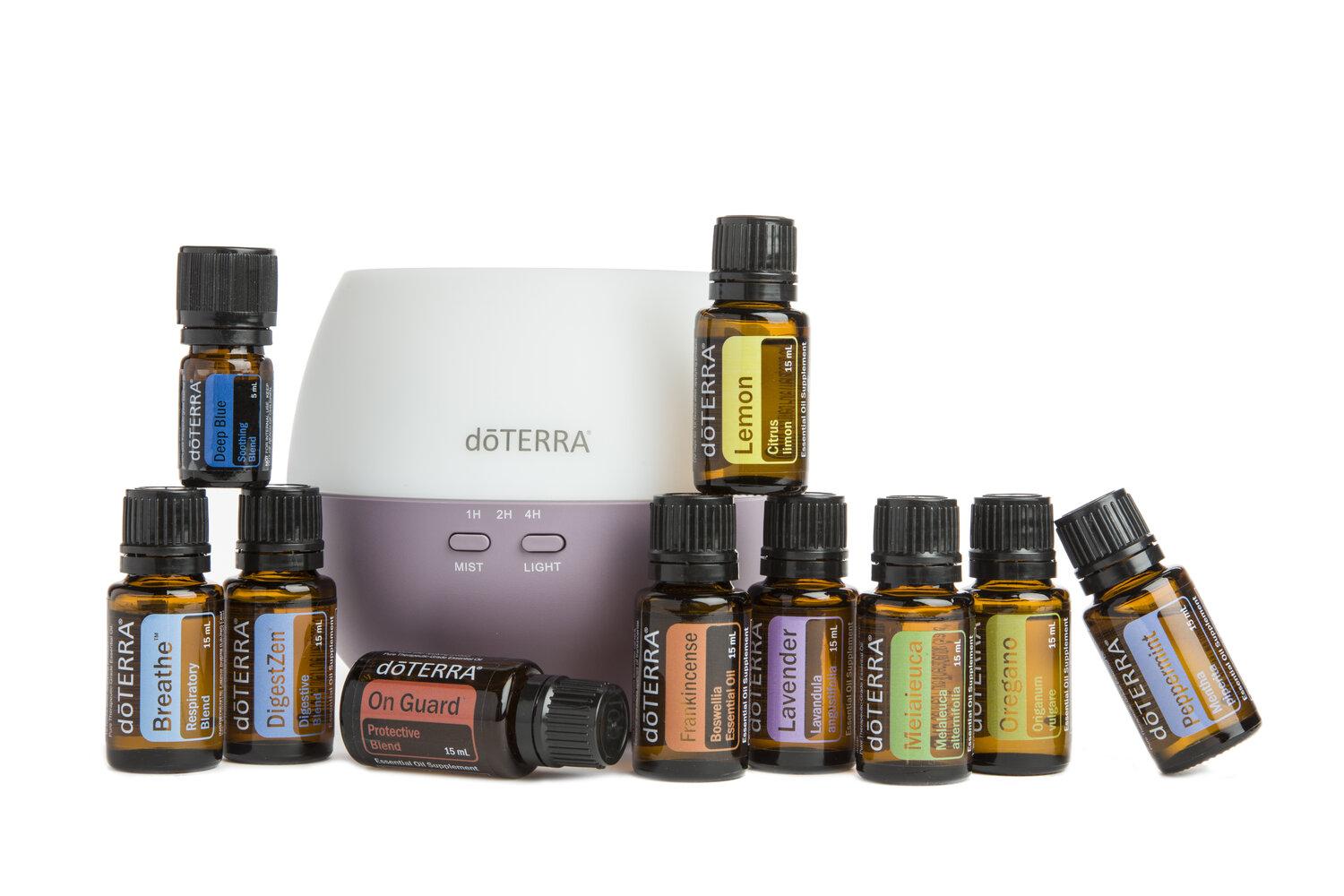 Begin With A Kit
Choose the best kit for you
doTERRA has a variety of specially priced kits to get you started. Whether you want to focus on diffusing oils for emotional support, solutions for everyday health concerns, or replacing toxic products in your home, we've got you covered. If none of the kits meet your specific needs, you can build your own!
All of doTERRA's enrollment kits include the membership fee and offer additional savings.
Three Ways to Purchase Oils
You have three options for purchasing your doTERRA oils. Pick what works best for you.
Wholesale Membership
Receive a 25% discount on all products you purchase by setting up a wholesale account. When you start with a kit, membership is free.
Loyalty Rewards
For those who have a wholesale membership, making purchases through the optional Loyalty Rewards program can earn you free products and free shipping.
doTERRA Wholesale Account FAQ
No, there is no minimum order requirement. When you have a wholesale account, you can order as often as you want, or place no additional orders at all. It is up to you.
There is no pressure and no obligation. However, the majority of our customers want to order regularly, and most want to take advantage of the benefits of the optional Loyalty Rewards Program, so it is worth learning more about.
The Loyalty Rewards Program (LRP) is an optional subscription program that you can completely customize. It's offered to customers with a wholesale account as a thank you for your continued business.
When you participate in LRP, each month that you place an order of at least 50pv (pv=product volume), you are eligible to earn LRP points!
LRP points like are product credits which you can use to purchase most of doTERRA's products. Each LRP point is equal to $1, so to receive a free product with a wholesale cost of $25, you'd redeem 25 points.
You begin earning LRP points at 10% back, and gradually increase to 30% back over time. Once you've placed qualified orders for at least 12 months, you'd be receiving 30 points for every 100pv purchased. At that point, your points add up very quickly. Most of us use our points to purchase the more rare, expensive oils.
Additional perks for those participating in the Loyalty Rewards Program:
LRP orders of at least 100pv also qualify for free shipping.
Those who place an LRP order of at least 125pv before the 15th of the month qualify for doTERRA's Free Product of the Month – a special item worth between $15-$20. These are often oils that doTERRA does not usually offer as a regular product for sale.
No. With doTERRA's Loyalty Rewards Program, you can customize your order each month. You can choose what you'll receive and the date that the order should be processed. You can change it every month if you would like.
As long as you purchase at least one product through LRP, even if its only a $5 item, you remain on the LRP program and maintain the "cash back" earning percentage you have achieved. Whenever your order is at least 50pv, you earn LRP points.
Yes. If you want to place multiple order, they can all be on LRP to earn you LRP points.  However, only orders of at least 50pv will earn points.  Two order of 25pv each would not combine to a 50pv minimum order.  But an order of 50pv and a second order of at least 50pv would BOTH earn LRP points.
Yes, you are able to cancel your LRP order any time by calling, emailing or texting member services.
If you do cancel, you will lose any unredeemed LRP points. You would also return to earning points at 10% once you set up your LRP order again, so there are big benefits to continuing on with LRP.
Unfortunately, no.  But using doTERRA products may help you feel less stress, more joy, less pain and have more energy! That's what essential oils do for me!